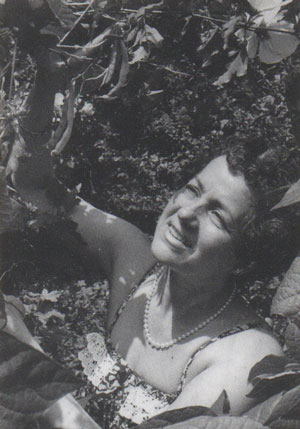 EDDA SERVI MACHLIN
She unveiled the secret of the Italian Jewish cuisine to the Americans, bringing to the States new, unexpected scents and flavours. But she also shared memories of her growing up in Pitigliano, a little town on the hills in Southern Tuscany. Edda Servi Machlin was much more than a cook: she was a kind of historian of the Jewish traditions of her community, before war and persecutions swept everything away.
Born in Pitigliano to the village rabbi, Edda learned all she knew about cooking from her mother: "Mamma was such a great cook. Any meal she served, not only the festive ones, was a gourmet delight". One of the brightest memories of her childhood was a big underground communal oven in her village, where they used to bake matzo at Passover. Pitigliano, also know as The Little Jerusalem, had an important Jewish community until WWII: in 1943, Edda's parents and little brother were sent to a concentration camp while she with her eldest siblings were sheltered by brave farmers who hide them risking their own lives. Once the family reunited, they moved to Florence and in 1958 Edda moved again to New York.
She became a cookbook author almost by chance. Unsatisfied by the restaurants she went to with her new American friends, she started inviting them at her home, cooking what she remembered from her Italian years and thus innovating the American Jewish culinary traditions with some Italian vibes. Any dinner was a success: her guests always asked for doggy bags to carry the leftovers home. So, Edda started writing down the recipes in a notebook she thought would have shown just to family and closest friends. But her delicatessen were too good to be kept in secret. The two books that followed were – and still are – the pillars of the Jewish international cuisine.