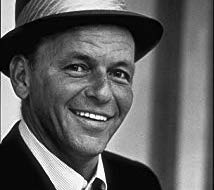 FRANK SINATRA
His first nickname was The Voice, because of his incomparable power, range and agility. But there was a time when The Voice hadn't the voice.
He couldn't cry. Or make even a little sound.
You saw Frank Sinatra dance, you heard him sing "All or Nothing at All", but here we tell just the story of his birth, kind of tribal and paganic episode, traumatic but essential to the mythic structure of the Sinatra saga, as the great novelist and Frank's friend, Pete Hamill, wrote in his beautiful "Why Sinatra matters".
That was the time when an Italian family name was half the troubles, and Sinatra ended with a vowel. For many Italians and their children, holding off enemies was a serious matter. But the first child in immigrant families, as you know, is also the first American, the one who begins the American saga.
In the case of Frank, his saga began with an act of Italian way to the drama that gave him proof of how life was a wonderful gift. And how lucky he was to be of Italian descents…
Frank was born at home on Monroe Street, Hoboken, on December 12, 1915. There was his mother, Dolly Garavente, and Dolly's mother, Rosa, but a doctor was summoned. He was not the kind of doctor Kildare, the calm and secure one; he was nervous and panicky.
He had to use forceps to get the baby's head out, but his technique was so clumsy that the doctor scarred Franky's face, neck, and ear, leaving him permanently scarred. But scars were a minor problem in this story; the boy appeared dead. He was enormous like a baby calf – thirteen and a half pounds, and Dolly wasn't even 5 feet tall – but looked dead.
He didn't breath, covered with blood. He didn't make a sound. Rosa, like any typical Italian woman, was impetuous and temperamental: so, she moved faster than the confused doctor, and did this crazy thing: she took the baby in her hands, run to the bathroom, and held him under the very cold running water in the sink.
The shocked baby began to howl.
The Voice was born.