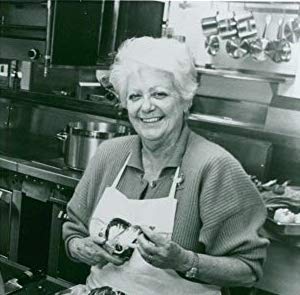 MARCELLA HAZAN
She was a mathematician and a scientist, having earned a doctorate in natural sciences and biology. Yet, the world got to know her thanks to a cook book. Marcella Pollini Hazan inspired generations of Americans teaching them how to care about food looking for freshness, genuine flavour and always the best ingredients.
She put all her knowledge in "The Classic Italian Cook Book", published in 1973 and for decades the ultimate volume – along with its successor, "More Classic Italian Cooking", out in 1978 – about Italian cuisine in the States. Marcella reached stardom almost by chance. She was born in Egypt in 1924, because her father worked there as a taylor. She was still a kid when a serious accident affected her right arm – her right hand being left withered – and so the family decided to go back to Italy for surgery and treatments. And there they stayed, living in Cesenatico, on the Adriatic coast of Emilia Romagna. In 1952 Marcella met Victor Hazan, a Newyorker Jewish Italian American, who was in Italy on his ancestors' tracks: they married three years later and then moved to New York.
Once in the States, Marcella had to reimagine her whole life. She didn't speak almost any English, so it was impossible for her to find a job: home alone all day with her baby son, she started watching TV to learn English. When she went out to the grocery stores, she could hardly find something decent enough to cook a meal. Back in the days, American food market was all poor vegetables and canned stuff. So, the scientist inside her began showing up: with a constant method she first learned to cook herself ("I've never had the need to cook at home, everyone there was so good at it!") and found out she had an amazing talent, especially for remembering and reproducing the Italian flavours. A star was born, and an educator as well. Her two books have been worshipped by men and women with the passion for cooking, and helped growing generations well aware of what they buy at the food store.