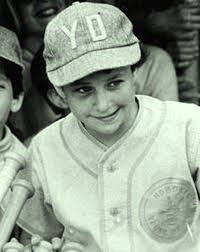 MARIA PEPE
She comes from the city where baseball was born, yet she had to sue the League that had banned her from playing because she was a girl. Maria Pepe, from Hoboken New Jersey, was 12 when she decided to try out for a new Little League with her friends.
Maria was already tough, as any Italian American. Used to play the ball with the boys in the streets, she was fast and strong: "a good hitter and an outstanding fielder" as her then manager Carmine Ronga said. But it was 1972, and her being a girl was the worst opponent she could ever meet. After the first, brilliant games the press began to spot her and the League became aware of her: no way a girl could be in the competition, that was just a boys' stuff. The whole Hoboken's charter was put in jeopardy if Maria persisted to be on the pitch. So, she was confined to be the scorekeeper of the matches, but couldn't stand it. And then she quit.
Nevertheless her story did not go understated. The NOW, National Organization of Women, sued the League on her behalf. And they won: "The institution of Little League is as American as the hot dog and the apple pie and that part of Americana should not be withheld from girls" ruled the judge. By the end of the trial, Maria was already too old for the Little League, but her story opened the doors of baseball to girls. Once for all.