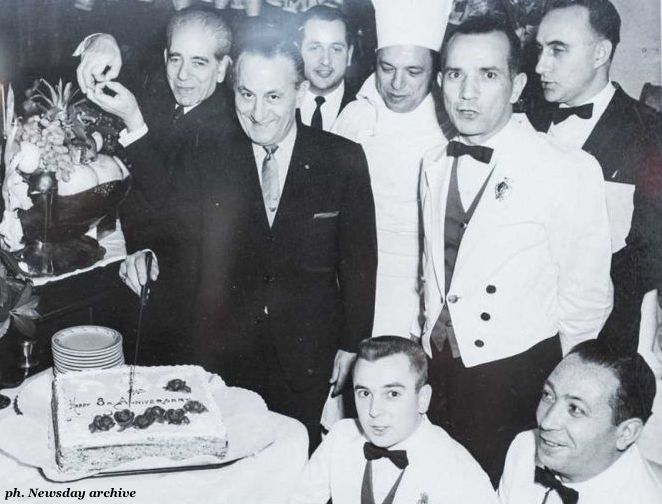 ROMEO SALTA
In the beginning it was all about red sauce and garlic. Then came a man who showed the other side of the Italian cuisine, the Northern one. That man was Romeo Salta, and he was such a trailblazer that in his obituary in 1998 The New York Times saluted him as a "dining pioneer".
Romeo had the merit to teach the Americans that another way of cooking Italian was possible: not just olive oil but also butter, not all that tomato but "white" sauce too and with less abundance of spices. It was just the early Fifties so, yes, Romeo was a true pioneer. His first restaurant to be opened in NYC was Mercurio's, on West 53rd Street, and it soon appeared to be something different: no red-checkered tablecloths, no "trattoria" style. Mercurio's wanted to look more classy than traditional. Given his being next to fashion magazines offices, his customers were editors, designers and models: a debutant Grace Kelly was among them. After selling his part of Mercurio's, Romeo Salta opened a new restaurant named after himself just three blocks North, on West 56th and Fifth Avenue. Now his patrons were TV actors and producers, theatre people, companies executives. They happily could choose among specialities not available elsewhere: polenta "alla Milanese" with fontina cheese, lasagna with pesto, artichokes stuffed with tuna just to name a few. "Northern Italian food is more delicate" he wrote in 1962 in his book, "Romeo salta: The Pleasures of Italian Cooking".
Despite his devotion to the Northern cuisine, Romeo was a South guy even though his story tells a lot more. Romeo's original last name was Saltalamacchia, and he was born in Taranto, Puglia, in 1904. When he was 6, his father died in a submarine so Romeo was raised in an orphanage in Florence and joined the Navy as soon as he could: he became a kitchen boy, and that's how he learnt the ropes. Got to the States in 1924, he started his carrier in the restaurants. What came afterwards is history.