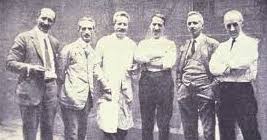 THE PICCIRILLI BROS.
The statue of Abraham Lincoln at the Lincoln Memorial in D.C. and the lions guarding the National Public Library in NYC. The eleven figures surmounting the entrance at the New York Stock Exchange and the statue of George Washington for the Arch of Washington Square in New York. Some of the most iconic American sculptures were carved by the expert hand of a bunch of talented Italian brothers. The six Piccirillis came to NYC in 1888 and changed the art of carving in the New World forever.
It couldn't be otherwise. They moved from Massa, a little town in Northern Tuscany that lies at the feet of the Alpi Apuane, the mountains rich in marble where Michelangelo went in person to chose the blocks to work on. They were natural born sculptors: a passion inherited from their father, a well-known stone carver who decided to bring the whole family overseas. They also had artistic, poetic names: Ferruccio and Attilio, Furio and Masaniello, Orazio and Getulio. They settled in the Bronx and setup a workshop right next to their door: some years later it occupied the entire block. Luckily they got to New York right when the City Beautiful Movement was beginning: a plan that encouraged the development of architecture to inspire moral and civic improvement. Thanks to their expertise, American sculptors didn't have to go to Italy to study anymore: they just made the models in clay, then the Piccirillis carved the stone.
And they did it so well that soon became a legend across the entire country. That's what The American Magazine of Art wrote about them: "They have brought us from their native land the whole art and craft and science and business of freeing the angel from the stone".